Accessories
Davina loves accessorising. Her handpicked collections range from tactile leather curtain tracks, mix & match custom coloured wooden curtain poles, decorative wooden pelmets, elegant novel curtain tiebacks & fringing, to fun farm animal wallpaper!
Hardware
Davina, like many retailers, can supply a vast range of curtain poles and tracks to suit your requirements. However, not only can they be fitted by a professional curtain joiner, Davina can also offer technical advice or solutions in your home with respect to which product to use, the positioning, fitting, and, quite frankly, what will and will not work in the given space to get the best possible result Click here
Over the years Davina has come to trust and regularly use certain specially selected manufacturers of curtain poles / tracks and decorative wooden pelmets for their standard of performance and quality. She also tries to support local small businesses and British manufacturers whenever possible.
To view the full range of Davina's handpicked fixtures & fittings click on the following links:



Davina's Comments
Curtain poles are not only functional, but can also enhance the appearance of a room in their own right. Unlike tracks, they allow you to choose from a wider range of curtain headings.
Curtain poles are definitely not something that should be thought of lightly or indeed economised on. They should operate smoothly with ease. If they don't you may cause damage to your curtains because of the sheer effort of opening and closing them - the rings don't run smoothly or there are not enough rings on the pole. Eight rings per curtain drop tends to work well. At the end of the day you get what you pay for with curtain poles!
For those who like the look of a pole but want the ease of a track, either corded or un-corded, check out 'Metropole' by Silent Gliss or 'Royal Orb' by Integra.
Double layering a pole by hanging a second curtain such as a sheer behind the main curtain is a good way to either add further privacy during the day or shield the sun's rays [which can cause premature fading].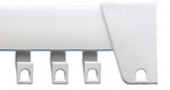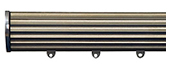 Davina's Comments
With so many curtain tracks to choose from it's easy to opt for any old white one off the shelf. Don't be too hasty with this purchase as having the right track makes all the difference.
The first step is to decide whether you will need a top fix or face fix track. If you are going to have a pelmet / valance over your curtains you will need a top fix mount, as the track needs be fixed to the underside of a piece of timber, which is what your pelmet / valance will be hung from, otherwise a face fix is neccessary.
It's worth paying that little bit extra to have a metal curtain track rather than a plastic one. The fixtures and fittings are far more durable, and you are not limited by the weight of curtain. Most are aluminium so will not rust and come either powder coated or siliconised for smooth, silent movement. Colour choice tends to be white, cream, gold or silver.
Bay windows are slightly trickier when it comes to choice and budget. Plastic curtain tracks are the easiest and cheapest solution here, however, depending on the size of your bay and the weight of your curtains, a metal track would be recommend. You will be slightly more limited with the choice of track that allows you to bend and create the curves yourself, but it is less likely to come away from its supporting brackets, especially near the corners of the bay once the curtains have been hung and are used daily. If you are unsure about bending the metal curtain track yourself, most suppliers of curtain tracks offer a made to measure bending service, but be prepared to pay extra for this. This service is essential if your bay has multiple bends in opposing directions. Accurate angle measurements of the bay are required, so if you feel unsure about taking the exact measurements yourself, Davina will happily take them for you. Remember a wrong measurement can lead to a costly mistake. Click here.
Corded or curtain rod? You can choose to have your curtain track pre-corded. This means the curtains are open and closed by a pulley system, which allows easy operation of the curtains. This is a good feature if your curtain fabric is particularly heavy or has been interlined, as the sheer attribute of the pulley system means less wear and tear to the leading edges of your curtains, where you would normally take a hold to open or close them. These tracks are normally extendable.
If your desired track length falls between two different sizes of extendable tracks, always go with the next size up rather than fully extending out the smaller track. You will get more strength out of the track this way. However a made-to-measure service is also available if you are unsure about which size to get.
Finally, if your desired track length is greater than three meters, It would be reccomended to have the track corded at both ends, so each end operates one curtain only.
If this 'corded' feature over stretches your budget, then a curtain rod can be used instead. It will assist with opening and closing an awkward pole or bay window, but its main role is to reduce wear and tear to you curtains.
For those people who are fashion conscious and want the simplicity of a curtain pole without the pelmet, or who want to house the curtains within the window recess but don't want a pelmet as it will blackout too much day light or the view, check out the 'Alu Dream' by Hasta Click here, the 'Polmet' by Byron & Byron Click here or 'Metropole' by Silent Gliss Click here.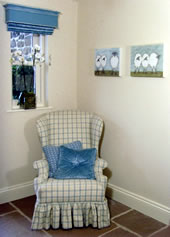 Davina's Comments
Made locally, these decorative wooden pelmets can finish off any scheme. Used in a traditional or contemporary setting, they can cheer up a dreary downstairs toilet or add interest to a simple hallway window. They are mainly used instead of a fabric pelmet over curtains however, they can be put over the top of a Roman blind for example. There are a number of different styles available and they are hand-crafted to your exact specifications and colour matched to your interior. A great touch of glamour that requires no maintenance and easy to clean!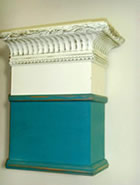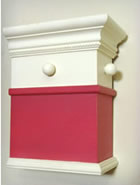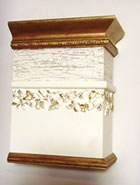 Another way to use the wooden pelmet is as a half tester. A half tester is a rectangular pelmet board traditionally covered with fabric that fixes above a bed head against the back wall. A back curtain and two floor length side curtains hang from the board and frame the bed. Using the decorative wooden pelmet in this way can make an attractive feature to an un-interesting bedroom.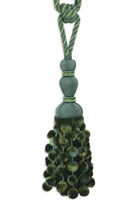 Davina's trimmings include:
Curtain tiebacks
Bobble / bead / tassel / bullion fringing
Braid / gimp
All of which range from fun brightly coloured, to elegant novel collections, classy urban chic, to timeless traditional. There is something for everyone!
Take a look at the Lullaby collection by Troynorth. The perfect nursery range. The soft pastel colour shades blend with any scheme and the tactility of the bunny rabbit corded curtain tiebacks are sure to comfort your little one when the lights are out Click here.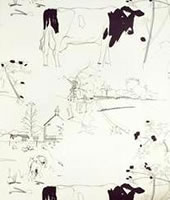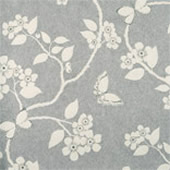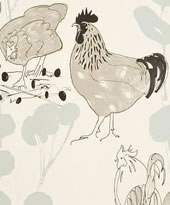 These wallpapers are designed by British designers and printed and produced in the UK.
Belynda Sharples from 'The Art of Wallpaper'
Vanessa Arbuthnott from 'Vanessa Arbuthnott Fabrics and Wallpapers'
Inspired by the Cotswold countryside Vanessa Arbuthnott's wallpapers offer gentle colours depicting scenes of woodlands, meadows, wild flowers, earth and gardens, whilst Belynda Sharple's collection offers fun, light-hearted, hand drawn pictures of farm animals, typical holiday scenes, and stripes and flora.
Davina's Comments
The first time Davina saw them, she immediatly fell for each of their collections. They are just so fun, fresh and simply striking.
They won't go un-noticed by your guests, that is for sure!
You can always be sure that once you have had a room decorated with wallpaper that their will be off-cuts left over.Why not experiment by gluing these bits of wallpaper to an old dustbin to brighten up a dreary corner of a room. Wallpaper doesn't always have to go on walls!